Murree could easily be the most overrated tourism spot in Pakistan. Though it has mountains, sights of the snowy peaks, thrilling route and what not, the place is so frequently visited by the people of Punjab that it should be renamed as 'Neo-Lahore'. Nonetheless, Murree is the easiest place to go on a one-day trip and that's what our campus squad decided.
It takes no more than 5 minutes to make a road trip plan when friends are around. Rent a bus that can accommodate 30 passengers, collect money from students, ask permission from university authorities/parents and hop on the next Saturday morning. It sounds quite simple, but takes mental and physical strength, no kidding.
You see, Punjab University students are not normal human beings. They'll make you weep and plead on your knees when you set off to collect the trip charges. Not that they're poor – I swear I've seen girls and boys swallow a trillion samosas per day in the cafeteria.
The thing is that, they like delays and punctuality is a word unknown to them. What's the point of organising events right on time when you can make others wait for Your Royal Highness?There are different types of parents in Pakistan. Some would allow their children to go on a trip at once. They're totally cool with their kids going out of town. As if they actually want their kids to go out so they can have a sigh of relief.
And there are parents who never want their kids to go on trips. It's like:
You: "I want to go on a trip"
They: "Nope"
You: "Ok."
The veto in such parents' case is faster than the speed of light.
But what pisses me off is those nutcases who constantly review their decision: To go or not to go. It's like a million-dollar question to them, or a matter of life and death. "I'll go if he goes. He'll go if 'she' goes. She'll go if 'they'll' allow," it's no less than the Rubik's Cube. People make wildcard entries, like DDLJ's Simran, and give last-minute NO-NOs.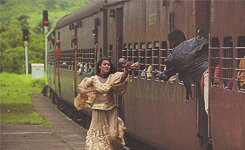 And then there are some who'll take a few light years to convince the parents.
You: "I want to go on a trip"
They: "Nope"
You: "I want to go… (x1010)"
They: "Ok, but take care :)"
We all love our parents and most of us understand their concerns, but sometimes they can be a little over-protective – and there is nothing wrong about that. It's time they realise that a 20-year-old can survive a wee tour. A little party ain't gonna kill nobody, right? If they still say no, tell them about the Bin Qasim episode. I'm sure that will spice things up a bit.